1 Corinthians 10:13 - "No temptation has overtaken you except what is common to mankind. And God is faithful; he will not let you be tempted beyond what you can bear. But when you are tempted, he will also provide a way out so that you can endure it"
Tags: temptation, addiction, a way out, endure, bible verse, memory verse, bible quote, 1 Corinthians
---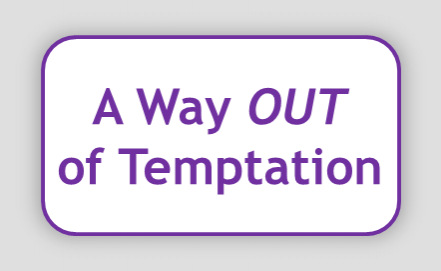 This verse from Corinthians has rich implications for the way we live our lives in our continuous battle against embedded sin.
First, it can be easy to think we are the only ones struggling with certain deep sins. This verse reminds us that temptation for sinful acts is actually quite common in man. Our "original sin" nature has been with us since the beginning of mankind... Thus, our call for persistence in our Christian walk lest we fall back towards our immature selves.
(Incidentally, Jesus also faced the same temptations you and I do... How amazing was His response vs ours?!!)
Second, our very own God, the same God that created the universe, is faithful to hand us
only what we can bear
. While temptation is an inevitable aspect of life on earth for mankind, our good and loving God watches over each of us, never allowing more than we can handle. Furthermore, as this verse continues,
He provides us a way out!
So how can this verse work for you?
You may find yourself with an addiction you cannot seem to overcome. It may be a drug habit, overeating, or inappropriate intimacy. In the moment when you are ready to grab a pill, eat the second or third piece of cake, or look at those pictures,
if you are aware
, you will likely find several healthier alternatives also pop into your mind. You may find time to spend on your hobby, call a friend or accountability partner, exercise, or read a book.
Without the power of this scripture, your mind will quickly dismiss these alternatives as you instead commit to your sinful act. Ultimately, you satisfy your addiction and likely feel worse about yourself once the moment has passed. The shame persists.
However, empowered by this verse, your healthy alternative takes over. Your addictive need is minimized as you find great joy in its replacement. Once the moment is passed, instead of regret, you feel enriched. You also feel empowered to defeat sin by choice, realizing you actually
DO
have control over your sinful temptations.
I would love to hear about your own success over sinful addictions below, or other ways you have been empowered with this text from 1 Corinthians. Please post a comment below...