Phillipians 4:13 - "I can do all things through Christ who strengthens me"
Tags: all things, Christ, bible verse, memory verse, spiritual verse, Philippians, Loading...
---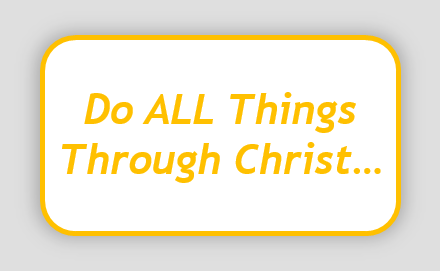 Let's face it, there are many things that feel impossible to us.
By the time we are adults, we have most likely learned about many limits to what we believe we can achieve. Of course, our self-fulfilling prophesy builds that reality around us.
The definitions we create for ourselves can become more and more galvanized over time, making things we desire seem even more impossible. In addition, there are moments in life in which our inner
"scared little kid" comes out
! We need confidence and we need it quickly.
This is where this memory verse can be extremely helpful.
This passage from Philippians reminds us that it is not our own power upon which we have to rely to achieve the things we want to achieve.
Rather, as Christians, we are privileged to have access to nothing less than the power of Christ! In examining this verse, there are literally no limits to what we may achieve.
When you submit a desired outcome to the power of Christ, He will deliver.
In my own overly hectic life, there are many moments that feel overwhelming. At the beginning of a particularly busy month, when I am looking at my calendar with nothing short of pulse-raising anxiety, I find peace in this verse. It refocuses me on the truth that everything is in His hands... His good hands.
It also focuses me on the truth that by the end of the month, somehow and someway, the Lord will have helped me through
ALL
of it! Three months from now, all that anxiety will have seemed like it were for nothing. It will be a distant memory.
I pray that you too will find His comfort in the ability to face difficult tasks and find success in His name with this memory verse! Please share your success in the comments section below...