Psalms 136:1 - "Give thanks to the Lord, for He is good; His love endures forever"
Tags: thanks, thanksgiving, memory verse, bible verse, bible quote, spiritual quote, Psalms, goodness, love, gratitude
---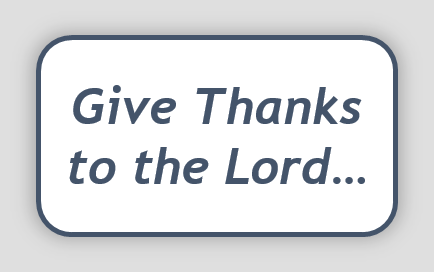 How full of gratitude does your heart feel right now?
If you're like most of us, you think more about what you're lacking than what you have.
And that's a guaranteed way to live a life of unhappiness.
Most of us want the opposite - we want to find happiness! At least most of the time :)
That's where this simple, but powerful memory verse from the book of Psalms comes in.
This verse hold of three profound concepts for Christian living... not to mention for finding happiness. Here they are:
1. Thank the Lord for your blessings
2. Realize He gives out of His goodness
3. Realize He gives out of His love for you
First, the verse reminds us to
make a practice of expressing our gratitude.
But it doesn't stop there. Rather, we are to
"give thanks to the Lord."
When our gratitude is directed at God, we remind ourselves that He is the provider for all our blessings. When we do this often, our mindset shifts towards truly understanding that God is the provider of all good blessings in our lives. As such, we refuse to allow other people, things, or circumstances influence our ability to find joy.
Second, the verse reminds us that God blesses us with good things out of
His goodness.
While that seems benign at first, it is actually quite significant. You see, God's goodness is inherent in His being. As such, He cannot exist without spreading good things to us. His eternal goodness means He cannot ever withhold good things from us.
Third, this verse reminds us that God gives out of
His love for us.
Thus, the motivation for His giving to us not only relies upon His unchanging goodness, but also His personal affection and love for you and me. When we understand and begin to feel that love, we experience little to no concern about how much our Lord will continue to shower blessings upon our lives.
Apply this:
1. Memorize this short verse from Psalm 136:1
2. Consider how it emphasizes that everything for which you are thankful comes from the Lord
3. Realize that the Lord's eternal goodness and love for us drives past, present, and future blessings for our lives