1 Corinthians 10:31 - "So whether you eat or drink or whatever you do, do it all for the glory of God"
Tags: glorify God, glory, memory verse, bible verse, spiritual quote, bible quote, 1 Corinthians
---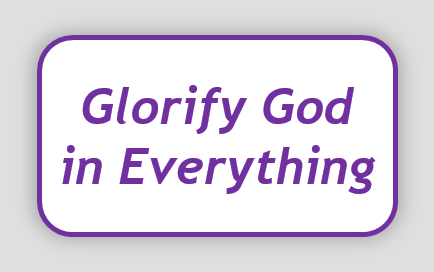 What an amazing verse!
As Christians, it is hard not to embrace an attitude to do everything for the glory of God!
After all, when we really
GET
the depth of our sin, the character of God, His mercy for us, and His ultimate gift of Christ for our personal benefit, we are bursting at the seams to glorify God in joyful response!
Giving glory has such grand notions for all of us.
It is easy to glorify God as we go on missions to serve orphans in Africa. It is easy to glorify God as we serve others in our Church with physical and spiritual needs. It is even easy to glorify the Lord when we sacrifice our financial abundance to put children through Christian schooling.
In each of these activities, there is a grand element to what is being done.
But what are we doing in between these larger events in our lives?
That's the piercing beauty of this verse...
Looking closely, we see that Paul starts this text by highlighting something that seems so routine as to not be significant at all - eating and drinking.
Paul is specifically telling us that each and every moment of our day, including those moments that seem insignificant, presents an opportunity to be glorifying God.
Our actions to glorify God are
NOT
confined to the grandiose.
Instead, even in the little "tasks" each day, like eating and drinking, we can glorify God!
Please share how you are able to glorify God in the little moments of your days in the comments section below...