2 Timothy 3:16 - "All Scripture is God-breathed and is useful for teaching, rebuking, correcting and training in righteousness"
Tags: scripture, from God, useful, teaching, rebuking, correcting, training, righteousness, bible verse, memory verse, bible quote, spiritual quote, 2 Timothy
---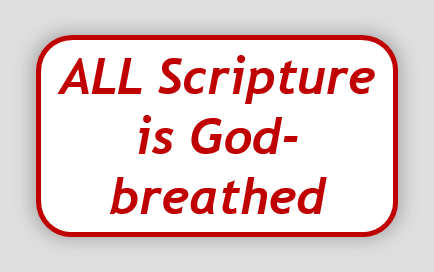 It can be very easy to miss
the point
of Scripture.
Long genealogies in the book of Genesis...
Chapter after chapter of rules about how to handle livestock in Leviticus...
And that's only the first few books of the Bible!
But Timothy reminds us in this passage about a couple of key features of scripture that we should hold present in our minds.
First, Timothy reminds us that
ALL
scripture is
"God-breathed,"
or that it comes from God as communication to us.
This is no trivial matter!
It actually drives us to consider what
IS
the point of the long genealogies?
(to highlight the ancestral line of Jesus himself, through good but imperfect people)
Why were there so many laws and rules given to the first Isrealites?
(to approximate a "holy" and "righteous" life before Jesus came ,and to highlight the impressive work of Christ on the cross to discard such laws)
Second, Timothy reminds us of the practical application of scripture in our daily lives.
He lists a few of the useful aspects in this text -
"for teaching, rebuking, correcting, and training in righteousness."
In our private prayer time, and time spent reading God's word, it is key that we read His words with a spirit of what we are being taught, what in our lives needs rebuked or corrected, and how we can continually be trained in righteousness as our Christian walk proceeds.
With this mindset every time you sit down to read the Bible - 1) God's words and 2) listening for the message - you will find relevance to your daily life in just about every verse you read.
Of course, there are other aspects of scripture not listed in this short text, too.
A big one to remember is that the Bible reveals the character of God - literally, who He is. In our human nature, understanding the nature of anyone is foundational to growing a loving relationship with them. Thus, reading scripture just to
"know"
God better is a great goal!