Psalms 46:10 - "Cease striving and know that I am God; I will be exalted among the nations, I will be exalted in the earth"
Tags: Psalms, cease, striving, memory verse, bible verse, bible quote, spiritual quote
---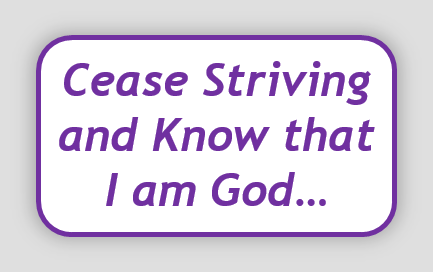 Many of us feel downright exhausted.
Family responsibilities... work responsibilities... house responsibilities... financial responsibilities....
They all add up to what can feel like thousands of pounds sitting on our chests.
Thinking about them makes it difficult to breathe!
This kind of exhaustion is not uncommon for people these days.
In fact, no one seems immune to the accelerated pace of our modern
"normal"
society. Our constant state of
"on"
means there is no time for rest for anyone who does not want to feel left behind.
But does it feel healthy?
Does it feel like we are truly free?
Even more, do we ever
"arrive"
at a finish line long enough to rest?
Probably not...
...and that's where this memory verse from the book of Psalms can be quite powerful.
You see, Psalms 46:10 reminds us of a great truth, whether we are aware or not. Specifically, that God is in control of all things. And that He will be exalted.
That great truth means we can cease striving. We can stop trying so hard - the source of much of our exhaustion!
We are also reminded that God will be exalted above every trivial matter in the earth. His goodness will reign.
When we truly meditate on the fact that God is controlling everything, and that His goodness will triumph, we can stop trying so hard. Letting God be God means we can rest and live free.
Apply this
1. Review this memory verse at least once a day each morning over the next 7 days
2. Concentrate on the peace it brings you as you remind yourself that God is in ultimate control over all things... and that He is good
3. Recall this verse in moments of great anxiety about your schedule