Romans 8:32 - "He who did not spare his own Son, but gave him up for us all—how will he not also, along with him, graciously give us all things"
Tags: Romans, gift, give, memory verse, bible quote, bible verse, spiritual quote, Loading...
---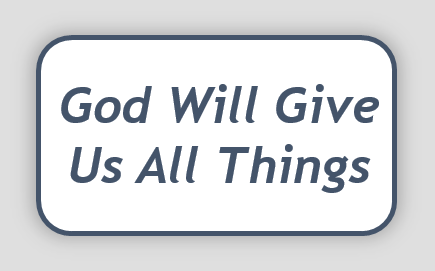 We
WANT
things.
Many of those passions and desires are part of what makes us unique.
They are the fibers of the tapestry that make us individually reflective of our Creator.
As such, each of us represents a different facet of God's greatness. We have the opportunity to reflect His character each day through all of our attitudes and actions.
Unfortunately, many time those passions and desires can get out of balance. We want these good things so much, that other good things get trampled and ignored. We tend to place these desires above our desire for God. They become false
idols
.
With increasing age, we realize that
there simply isn't enough time and resources to be "all in" for everything and everybody we want
. That's the burden of our imperfect world.
As a result, we end up inviting moment after moment of disappointment.
But as Christians, we have the Gospel.
We get to place our hope in God's Word and His promises
.
And this verse from Romans 8 should give us great encouragement today!
First, Paul reminds us that
God WILL give us all things
. So today, we can remind ourselves that every desire we have will be fulfilled!
It is true that these things may not happen during our lifetimes. After all, we may be past our prime to pursue a career as a rock star or a theoretical physicist. But since such interests are planted in our hearts, we should believe there is a reason. We should believe we will be reunited with them
(or something much better)
in eternity with God.
Second, Romans 8:32 highlights the proof that
all these things will be given to us
- that God sent His own Son to die for us. After all, there is no greater sacrifice a father can make than his own son. That reality should bring us great understanding that
God will hold nothing back from us
. Our job is to remain
patient
and faithful in the midst of a world full of disappointments. We are to wait and trust in His eternal promises.
So be encouraged today that all your disappointments will be turned around by the God of the universe!
Apply This:
1. Review this verse several time a day for the next few days
2. Meditate on its 1st key point - God
will
give you all things you want
3. Meditate on a 2nd key point - He has proven this promise by sacrificing His own Son 4. Cultivate the patience to wait for and the faith to believe in these promises