The hum of society's relative truth can put us in a more dangerous trance than we likely realize…
Tags: relative truth, relativism, absolute truth, Bible
---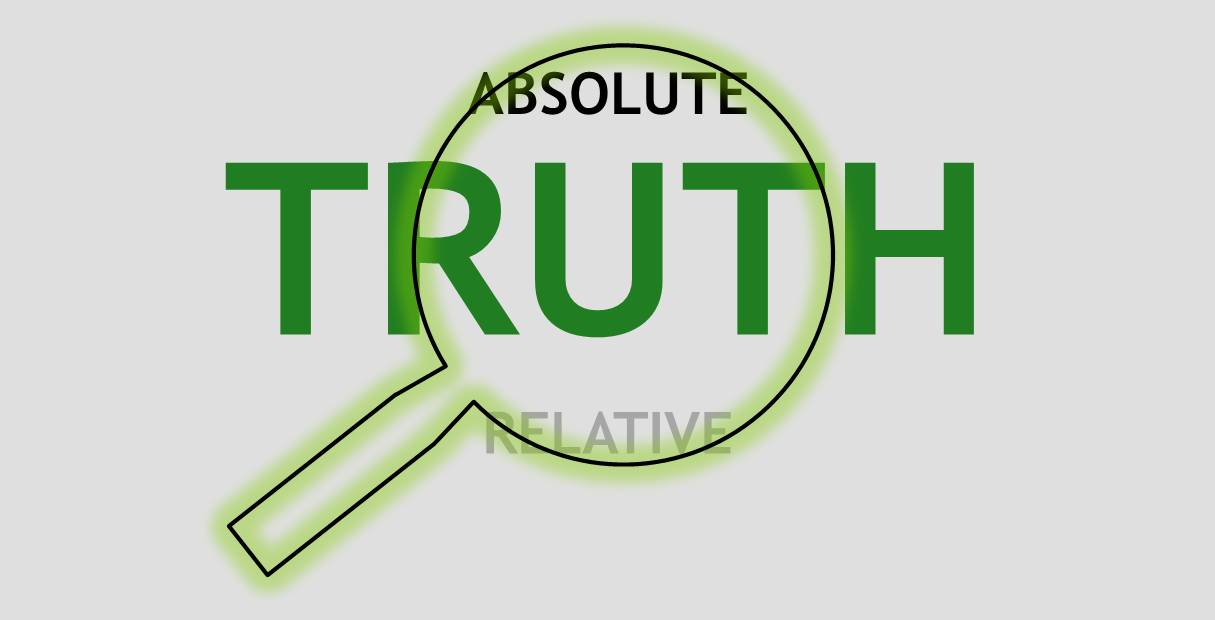 Many people likely do not even fully understand the difference between
relative truth
and
absolute truth
.
Admittedly, it is not a straightforward topic!
To be honest, I didn't really hear about this concept until just a few years ago. Since then, I have more fully appreciated its significance!
Here's my attempt to help you do the same...
Truth Defined
Webster's defines TRUTH as
the real facts about something; the things that are true
. It seems pretty clear that truth is based on facts. So what's the problem?
Simply put, "truth" is not always true for some people.
The problem is that people like to create their own facts. Furthermore, they tend to do so in ways that support their personal desires, what is most convenient for them, and what they like to do or say. We have heard how truth is often defined by our own perceptions of reality. We have watched the law establish a new truth with cases like the redefinition of the word "marriage" to no longer be specific to a relationship between a man and a woman. We also have heard that three eyewitnesses to the same accident may recount different and conflicting "facts" about what they saw!
Relativism
Given these and similar realities, many people have abandoned the idea that a single truth even exists. The term coined for this philosophical view is
"relativism"
, and its influence is
EVERYWHERE
in our society.
There is a REAL and PRESENT danger
that what is common in the society in which we live can literally
brainwash
us away from being righteous.
The biggest danger to you and your loved ones about relativism is that you may not even know you are a subscriber!
Our society has such deeply ingrained relativism, we must be quite cautious that our own views of the world are not blindly aligned with a relativist approach. Let me give you a couple of examples to illustrate:
It's okay to take pens and pencils home from the office since all my coworkers do…
It's okay to drink alcohol during my high school years because all my classmates do…
It's okay to sleep with my fiancé because we are getting married soon…
Absolute Truth
And that brings us to our alternative choice… a singular barometer against which to measure all thoughts, observations, and actions. A less confusing choice called
Absolute Truth
.
Absolute truth, as its name implies, is a term that indicates
there actually IS a singular truth within and about all things
. In other words, there is not a variable scale by which to measure things. Rather, there is a singular yardstick by which to measure everything.
That yardstick is God's Word!
The Word of God, as provided to all mankind in the text of the Bible, professes a singular truth that is consistent throughout hundreds of pages and over thousands of years.
If you choose to use the Bible as your reference manual for truth, I promise you you will not be disappointed. Rather, you begin to know a level of wisdom and understanding that you have never before experienced.
Let me give you an example. Although we tend to grow up and believe a big part of life is chasing the accumulation of "stuff", especially in Western culture, we have
1 Timothy 6:7
to remind us…
"For we brought nothing into this world, and it is certain we can carry nothing out."
Here is a nice profound piece of absolute truth for you to consider when the world is screaming that you need some new clothes, a new car, or some new furniture for the front room.
Furthermore, revisiting our list from above, we approach our decisions more righteously:
I should not steal anything, no matter how small or large...
I should follow all laws of the society in which I live (as long as they do not dishonor God)...
I should not have intimate relations outside of the boundaries of marriage...
Finding Help!
So how can we stay on guard? Quite simply,
we need to read the Bible and do it routinely
! Or as it says in the book of Joshua 1:8,
"...meditate on it day and night, so that you may be careful to do everything written in it; then you will be prosperous and successful"
.
Please feel free to comment on your own challenges or successes in dealing with relative and absolute truth below…