In the midst of a lousy break, there are still things to be thankful for - we just need to make sure we are looking...
Tags: break, run, surgery, career, rest, prayer time, loving family, our daily bread, things to be thankful for
---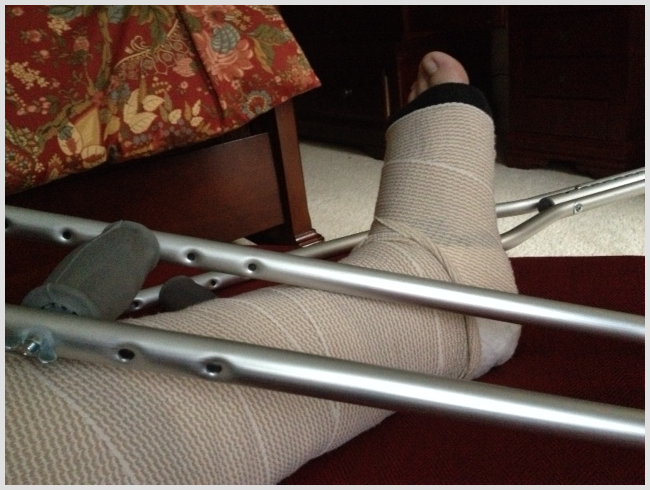 At about 0.5 miles in to my 10-mile training run this past Sunday morning, I caught the edge of a sidewalk and unexpectantly broke my left ankle. In an instant, so many consequences became evident: my training for my first marathon was over, no exercise for a full 4 to 6 weeks, cancelled overseas travel for work, etc….
Undoubtedly, I have lots of disappointments about these consequences. However, empowered by a Spirit of hope that I believe was fueled by prayer time before I even laced up my shoes on Sunday morning, I have been blessed with a different perspective -
one of gratitude!
There are still things to be thankful for, I only need to make sure I am looking.
Here are five things that I am specifically grateful for:
| | |
| --- | --- |
| 1. | I don't need surgery! The break was a relatively simple fracture of the fibula, with everything staying in place. No surgery means quicker healing. |
| 2. | My chosen career. I have a particular appreciation that my injury does not impact my work significantly. I do not have a job that is dependent on my physical ability, besides typing on a computer and speaking on the phone. I am counting my blessings that I can still work to support my family while this ankle heals. |
| 3. | More rest! This may be the ultimate message in God's sovereign plan. Prior to this break, my routine awakening hour was 4:00 am. This early rising supported my exercise and getting a jump on the day with work tasks. Without exercise to pull me out of bed, I am finding myself able to "sleep in" in ways I haven't in quite a long time. |
| 4. | More time with God. While I had a routine of constant communication with God, I am finding myself being much more still in my time with God. This stillness has facilitated much deeper conversations with Him. My prayers seem much more intentional and feel like they carry more weight. Overall, this intentional time of prayer with primarily gratitude and supplication has me feeling closer to God. |
| 5. | My loving family! Even though it was 5:00 am in the morning on Sunday, I had a loving voice to call to come pick me up – my wife! Since then, I have an 8 year-old daughter that is truly happy to serve me by bringing my drinks, carrying my computer around, and whatever else I need. I have truly appreciated the blessings of my little family at home more than usual since my accident. |
I hope this example can help you realize what is truly possible with a foundational perspective of gratitude. Please share your thoughts in the comments section below!